Staying ahead of the pack
Published on:
29 Sep 2009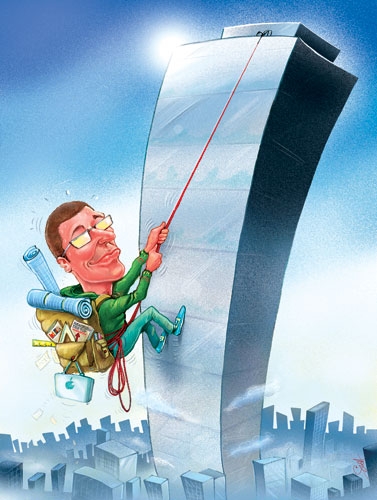 Illustration by Scott Clissold

At times like this, there is no magic bullet to success, but there are a number of things you can do to ensure you have the best possible chance of landing your dream job.
Be the first to see jobs
Recruiters can end up overwhelmed with applications, so it is important to make sure that yours is one of the first on their desk. BD4Jobs is updated regularly, so it is definitely worth signing up for customised job email alerts to get first shot at the latest vacancies.
Network
Research suggests that the vast majority of people find work through word of mouth. Therefore ask friends if their practice is looking for someone at your level; speak to tutors at university, go to architectural events and lectures. You never know who you might meet! Find out what's on at the RIBA
Ask for the right salary
Last year architectural practices were often in urgent need of new staff and in many cases paying quite high salaries to attract the top architects. Sadly, this is now rare and you may need to revise your expectations accordingly. View salary guide
Apply directly
Not all firms are advertising at the moment, so be proactive and contact local firms directly. Contact firms in your local area to see if they have any positions available at the moment. In times like this, offering your skills on a contract basis may often be more appealing to a practice than taking on permanent staff.
Be up to date on CAD
The majority of roles nowadays require CAD skills and having limited CAD experience can put you at a disadvantage.

Be up to date on CPD
If there are any areas you feel your knowledge is weak in or if you would like to redirect your career development you can take courses via the RIBA Online CPD.
Research sectors
Although a number of architects have been made redundant in the housing sector, areas like health and education appear to be holding up better. You can find practices specialising in various sectors using the search facility on the RIBA's website.
Consider relocating
It is worth considering relocating to follow demand – even if it is just a temporary move. Moving to another part of the UK could bring lower living costs and less competition for jobs.
Be Flexible
Even outstanding candidates need to consider other alternatives to traditional full time employment in this market. Take a second look at options like working on contract, or a part-time, or even other construction roles such as working as a project manager or client adviser.

Work for yourself
Can you work freelance? Enter competitions in your spare time? Or even start your own practice? It is time to think creatively.
And finally, don't despair! Many of today's most respected architects made a living through teaching during the last recession, or doing unrelated jobs, so even if you take some time out from architecture all is not lost.